At BANF, we extend our heartfelt congratulations to all the recipients of this esteemed award. We invite you to delve deeper into their inspiring stories and the remarkable journey they embarked upon to achieve this recognition.
The 2023 BANF Artist Awards aims to empower and support Greater Houston's diverse artistic community by offering a significant one-time investment of $20,000 to the first 25 artists who identify as Black, Indigenous, Latinx, Asian Pacific Islander, Middle Eastern, or any other community of color (BIPOC).
This award serves as a testament to the artists' dedication and contributions to Houston's communities of color, recognizing their invaluable role in shaping and enriching the cultural landscape of the city.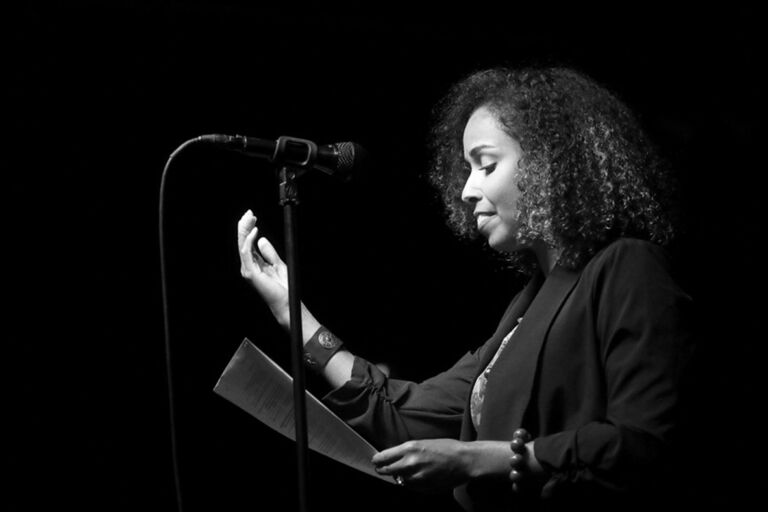 Ann Johnson
Unconventional printmaker with a focus on ancestral legacies and historical futures
Aris Kian Brown
Houston Poet Laureate, Slam Champion, and published poet
Ayanna Jolivet Mccloud
Environmental steward, creator of about the environment, African diaspora, and Gulf Coast
Benito Vasquez
Producer, actor, and founding artistic director of TEATRX
Brian Ellison
Conceptual artist who believes art is a catalyst for healing and documenter of the everyday Black experience
Daniel Anguilu
Graffiti painter of large-scale aerosol murals and freedom of expression advocate
Danielle Fanfair
Writer, teacher and director of integrated well-being and self-mastery
Eepi Chaad
Multidisciplinary artist, advocate, environmentalist, and storyteller
Ezra Hezekiah
Visual artist originally from Central America, connector, and entrepreneur
Harrison Guy
Choreographer, founder and Artistic Director of Urban Souls Dance Company
Jasminne Mendez
Dominican-American poet, educator, translator, playwright and author
José Antonio Diaz
Composer, musician, educator, and founder of Diaz Music Institute
J.E. Hernández
Composer, multi-disciplinary collaborator, and multi-narrative storyteller
Koomah
Intersex & genderfluid grassroots artist, performer, filmmaker, and educator
Lupe Mendez
Writer, educator, activist, and founder of Tintero Projects
Abuela M'api Rainflowa
Teacher, performance artist, creator of sacred healing space, Indigenous culture advocate
Miriam Damaris
Promotora de eventos culturales en Houston y fundadora/miembro de la Colectiva Feminista Colibrí
Monica Villarreal
Interdisciplinary artist who explores ethnic identity, gender roles, migrant and environmental issues
Rabéa Ballin
Multi-disciplinary artist who explores the uniqueness of self-identity, hair politics, and social commentary
Rathna Kumar
Dancer, choreographer, teacher, international ambassador, and founder of Anjali Center for Performing Arts
Sergio Sandoval
Actor, promotor cultural y firme creyente que la comunicación, la comprensión y la aceptación de todos los seres humanos
Sister Mama Sonya
Storyweaver, poet, playwright, motivational speaker, and author
Stacey Allen
Dance/performance artist, curator, arts education advocate, and founder of Nia's Daughter Movement Collective
Tarsha M. Gary
Culinarian, painter, quilter, writer, farmer, speaker, and founder of Ecotone World
Trisha Morales
Storyteller, activist, artist, community organizer, and builder of community space
2023 BIPOC Arts Network and Fund Artist Awards Process
The BIPOC Arts Network and Fund made a commitment to support individual artists since its inception in August of 2022. We initiated the work with an organization and fiscally-sponsored collectives focused grant opportunity to begin to build our network and capacities in such a way that we could manifest a process that centered equity, understanding this would also allow us to develop the infrastructure to create a meaningful program to invest in individuals. As with all BANF resource initiatives, we aim to build a community-participatory process that reduces barriers to entry, recognizes the humanity and value of each applicant, and avoids granting practices that perpetuated harm, particularly on those who have been historically marginalized and under-recognized. We focus our knowledge, expertise, and energy on the process more than controlling for an outcome.
Watch the 2023 Artist Awardees and Houston Cultural Treasures initiative ceremony