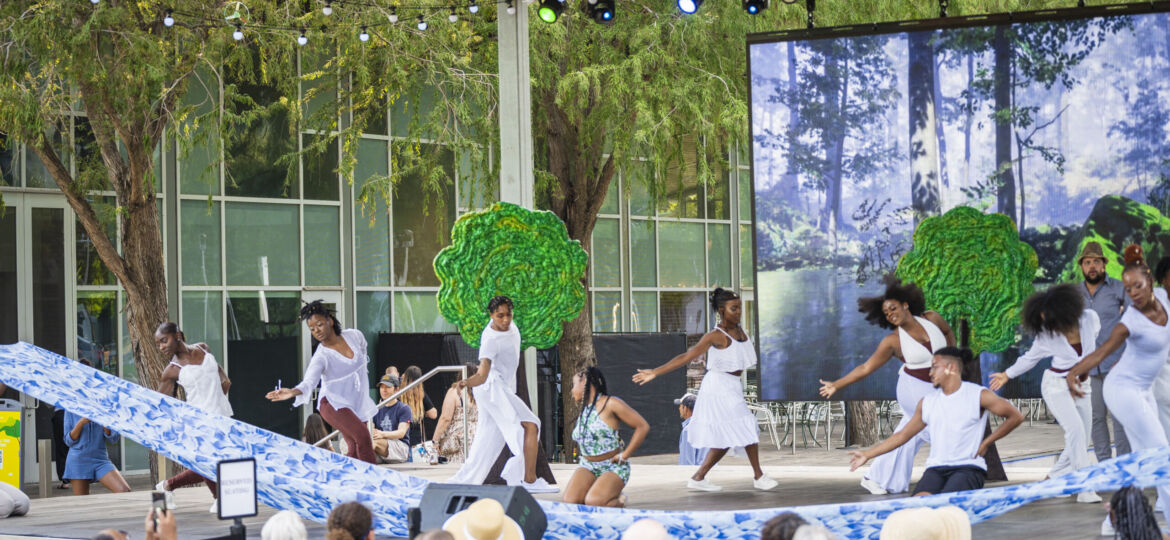 Stacey Allen, a mother and educator, recognized a crucial need for black girls and women to see the beauty and greatness within themselves and others. She envisioned a future where the missing ethos of black beauty would be instilled in young girls and women, and as a result, a new mindset would emerge on what it truly means to be an American with African roots. Through her vision, Stacey saw the potential for a positive shift in perception and an empowering realization of self-worth among black girls and women.
As a performer, Stacey was aware of the universal power of music and dance to communicate a story that could resonate with audiences of all backgrounds. This understanding led to the creation of Nia's Daughters Movement Collective, an agency that employs creative dance to convey narratives of beauty and bravery. The Collective's most notable performances, such as The Fairytale Project, Aesthetic Inheritances, and Liturgy of Remembrance, showcase the story of Stacey's husband's ancestors, who established a freedom colony in Texas after the abolition of slavery. Through the art of dance, the Collective shares a love story that honors the legacy of these resilient pioneers and their self-determination. The story possesses echoes of the great diaspora from the African homeland, firmly rooted in American history.
While the primary focus of Nia's Daughters Movement Collective is serving Harris and Fort Bend County, their popularity has expanded to other cities in Texas, including the largest festival for creatives in the state, SXSW EDU. As audiences continue to express interest in their unique blend of storytelling and dance, the Collective's reach and influence continue to grow beyond their initial service areas.
Stacey considered the sponsorship from BANF unique because it acknowledged the humanity of communities of color and demonstrated an awareness of their place within various ecosystems. She believed this sponsorship model could serve as a blueprint for future endowments to fund initiatives within communities of color effectively.
As a beneficiary of BANF's funding, Stacey views this kind of inclusivity and community support as a validation of her work and the work of the Collective, which in turn amplifies the voices of black individuals, allowing them to be part of the mainstream narrative. According to Stacey, the committee members and fellow grantees do not make her feel excluded or marginalized, and this inclusive approach enables black voices to be heard and elevated.
When Stacey received the news that her grant application had been approved, she experienced a range of emotions. She felt overjoyed, excited, and happy but also relieved and validated. The funding was crucial in providing her nonprofit with the support and resources needed to breathe new life into its work without adhering to the tight budgets that come with project grants. Additionally, connecting with other BIPOC arts organizations in the Houston area as a contributor has been an incredibly fulfilling experience for Stacey and her troupe.
The BANF grant has had an incredibly positive impact on Nia's Daughters Movement Collective, providing exponential growth and opening up new possibilities for the organization. The grant has enabled the Collective to expand its exposure by investing in marketing support, increasing visibility, and catching various institutions' attention. As a result, new partnerships with other community groups have emerged. Stacey has also been able to invest in a PR agency on a per-project basis, pay dancers to create social media content, and take marketing courses to improve her skills. This momentum has allowed Stacey to expand her influence and confidently enter policy-making spaces.
The BANF grant has allowed Stacey's vision to evolve in ways she never imagined. The funding has been instrumental in scaling her work, and she is hopeful that with more support, Nia's Daughters Movement Collective can reach even more communities of color. The grant has allowed the Collective to expand its impact and continue to spread its message of beauty and empowerment to a broader audience. Stacey is excited about the possibilities that lie ahead and is grateful for the opportunity to create positive change through her work.