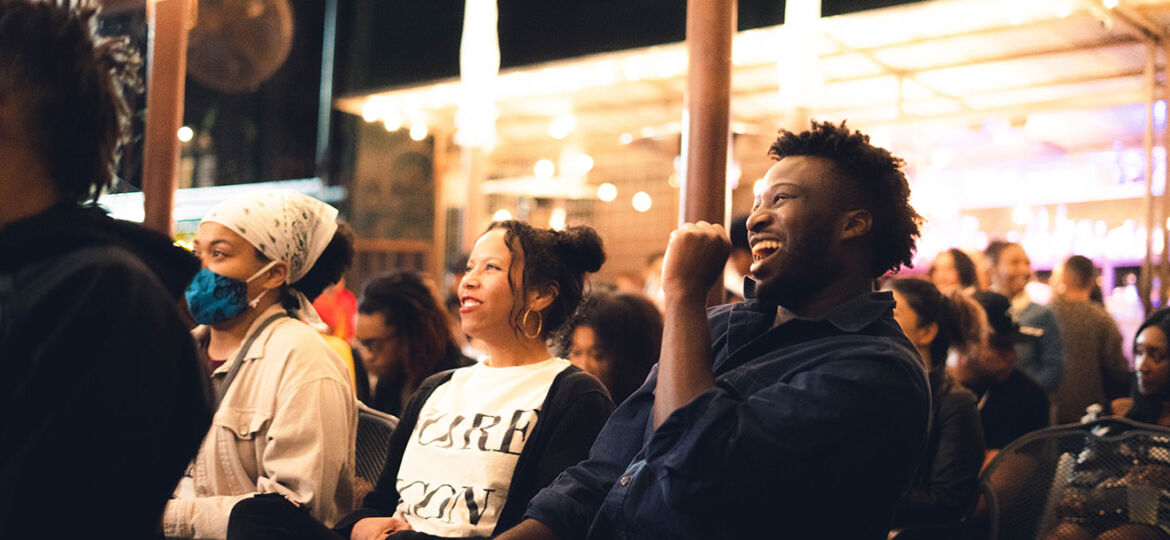 BIPOC Arts Network and Fund or BANF
BIPOC Arts Network and Fund, or BANF, is an independent initiative created to provide resources and networks that support the BIPOC communities in Greater Houston. The generous contributions of national and local foundations, including the Houston Endowment, the Ford Foundation, The Brown Foundation, Inc., The Cullen Foundation, the Kinder Foundation, and The Powell Foundation, fund BANF.
We want to demonstrate the values and culture of the BIPOC communities and encourage everyone to discover these art communities. Today, we would like to tell you about one of the organizations that received funding from BANF.
The Iranian American Community in Houston
With over 50,000 inhabitants in Texas, the Iranian American community is an integral part of the cultural diversity. With community members deciding to express and share their art, many people can enjoy and live the richness of diversity and learn more about the people surrounding them.
Amir Safi, founder of Write About Now, also known as WAN or WANPOETRY, lives in Harris County and leads a poetry community that includes and represents a wide variety of demographics.
After hearing through Instagram about what BANF does, Amir applied for the award and received the funding for Write About Now. Amir explains that the BANF application process was thoughtfully designed as a catalyst to help a group like theirs succeed, unlike other application processes that they had encountered that work more like barriers to exclude BIPOC community members. Amir expressed that, throughout the application process, he felt supported and heard. He explains that the communication and follow-up were unprecedented. Amir believes that BANF was committed to providing them with the resources necessary to succeed. The BANF process honored its applicants by empowering them to do what was best for each community.
So, how did Amir Safi come up with the idea of creating this project? He explains that, as an Iranian American growing up in the bible belt in Texas after 9/11, there were no outlets for individuals like him to share their voices. However, he learned he could share his story through poetry readings and slams by signing up. Eventually, he hosted his own weekly poetry readings through Write About Now. The shows started in Houston with an attendance of 15 people each week. Today, the attendance has grown to 100-200.
Amir expresses that initially; the intent was to create a platform for live expression, but they soon realized the need to be documented so it could be shared through social media platforms.
Consequently, they started recording, producing, and streaming poetry shows and performances. Since then, they've released thousands of videos online. The videos gained widespread acclaim and have been shared by the likes of Sophie Turner, BuzzFeed, HuffPost, Afropunk, and more. "We have amassed a social media following of more than 1 million individuals across our platforms," said Amir. He added, "Today, Write About Now is dedicated to building a diverse and inclusive platform for poetry, including live events, online classes, and video production and promotion, where poetry is created, shared and amplified in the greater Houston area and beyond." Amir emphasized that through their programming, Write About Now serves primarily adults of color with classes that help them write their stories and stages that help them share their poems with the world.
"Today, Write About Now is dedicated to building a diverse and inclusive platform for poetry, including live events, online classes, and video production and promotion, where poetry is created, shared and amplified in the greater Houston area and beyond."
On receiving the BANF Award
The BANF funds have opened numerous doors for the Write About Now community. They have improved the quality of their short poetry videos through infrastructure support and replaced dated equipment. Through staff support, they increased wages for their entire BIPOC team of artists, which they will continue to pay moving forward. They produced more videos, including one of Sherrika Mitchell, a Houston-based poet, who reached more than 4 million viewers on Instagram alone. This helped build an audience for BIPOC poetry and create immense visibility for her, Write About Now, and the Houston BIPOC poetry community.
The funds also supported new educational programming. Thanks to BANF funding, Write About Now hosted weekly instructor-facilitated online writing workshops, which not only helped Houston-based artists but the BIPOC community abroad. "BANF funding enabled Write About Now to continue and improve the quality of our current programming while giving us the freedom to explore and create more sustainable and accessible programming for the BIPOC community," said Amir.
Amir describes the BANF grant funding as an incubator. He believes that BANF funds accelerate the speed at which projects are created, helping artists significantly impact BIPOC communities now. Making a more significant impact today helps build momentum moving forward, making a greater impact for tomorrow. Funding a group like Write About Now also helps the BIPOC community by creating more visibility, programming, representation, and working opportunities for BIPOC artists, according to Amir.
"This project helped accelerate my learning as a BIPOC poetry community leader. I was provided the support to experiment and explore within our programming instead of worrying about staying above our bottom line. It allowed me to network and engage with other BIPOC community leaders, which led to opportunities to speak at two national conferences. It also helped me explore new ways to bring revenue into our community, creating a pipeline of support in perpetuity," said Amir. "Some of the programming enabled by BANF seed-funding will continue like our instructor-facilitated writing workshops because we learned the workshops can be self-sustaining," he added.
BANF supports artists from BIPOC communities and invites everybody to learn more about the artistic expressions that surround us. If you are a member of the BIPOC community and are interested in receiving funding, contact us today and make your projects come true.